Cubicle / Privacy Curtains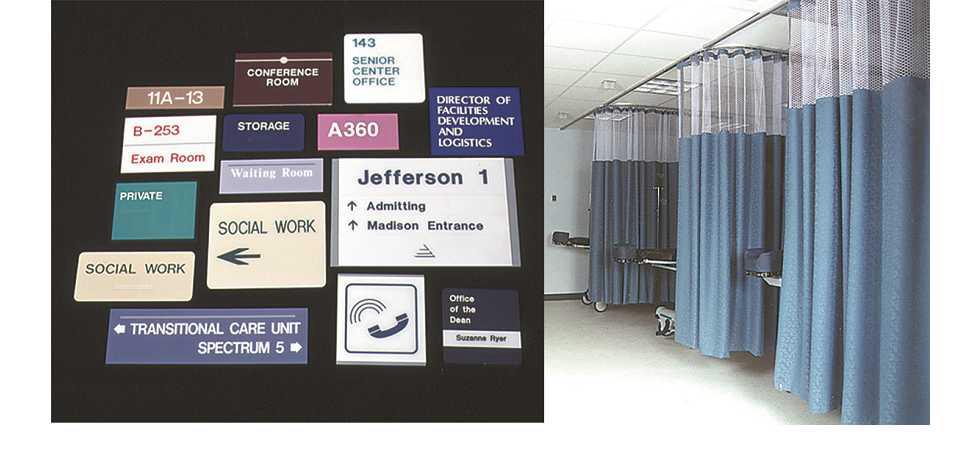 · Cubical/Privacy Curtains: Creating a beautiful,
dignified environment, promotes the healing process.
Pride in Workmanship by Experienced Craftsmen.
Produce Unsurpassed Quality. Hundreds of
inherently fire retardant fabric patterns and colors,
which meet or exceed Federal, State and Local fire
standards. Made to fit your customers space
· Cubicle Tracks: Available in Satin Anodized and
White Baked Enamel Finishes. Curves up to 12 inch
· I.V. Track Systems : Barjan No. 110 I.V.Track is heavy
gauged extruded aluminum. Satin anodized or white
baked enamel finish. The track is designed to receive
the NC-10 or C-10 carriers. Available with 12" radius
· I.V. Carriers: Precision Engineered. A machined
aluminum carriage with: Front and rear nylon guide
wheels, stainless steel I.V.loop, and Easy Lock - A
single twist locks carrier in position.
· IV Bottle Holders : 4 and 8 bottle styles, conveniently
telescopes out of the way when not in use.
· Window & Drapery Treatments : All Barjan
inherently fire retardant fabrics meet or exceed
Federal, State and Local fire standards. A complete
range of drapery applications from window coverings
to auditorium/stage drapes and room dividers. Every
type of drapery, from basic functional, to the elegant
· Shades: Huge Selection of Barjan Shade Products in
Various Rollers, Systems and Styles.
· Blinds : Select from every name-brand manufacturer:
Levolor®, Hunter Douglas®, Graber®, Bali® or
Kirsch® plus our own, more economical Barjan
brand. Available in Horizontal or Vertical styles.
· Bedspreads, Comforters, Blankets : Extensive line of
patterns and solids, in a vast array of colors and sizes.
Fire retardant and non-fire retardant fabrics.
Unquilted or quilted. Throws or fitted styles.
· Shower Curtains : Double reinforced headers (tops)
with non-rust grommets that add strength and
durability . Fire retardant fabrics. Mold and mildew
· Wall Decor Signage : All of our signage is created
from high quality materials to visually present
graphics and messages. Compliant with OSHA and
A.D.A. (Americans with Disabilities Act). Indoor /
Outdoor, Directional / Way finding, Directory,
Signage created in many sizes, shapes and colors to
suit any application or budget. Logos, Subsurface,
Vinyl Letters, Braille, Raised Letters, Silk Screening,
· Reupholstery: Standard Box Table: Includes
Seat/Back, Pull Out Leg Rest. Physical Therapy, Chiro,
& other Treatment Tables. Stools & Waiting Room
Furniture. Office furniture.
· Cart Covers: Strong & Durable, Protects Valuable
Barjan Design Call your local rep
Novum Medical Products, Inc.
Renaissance Privacy Curtains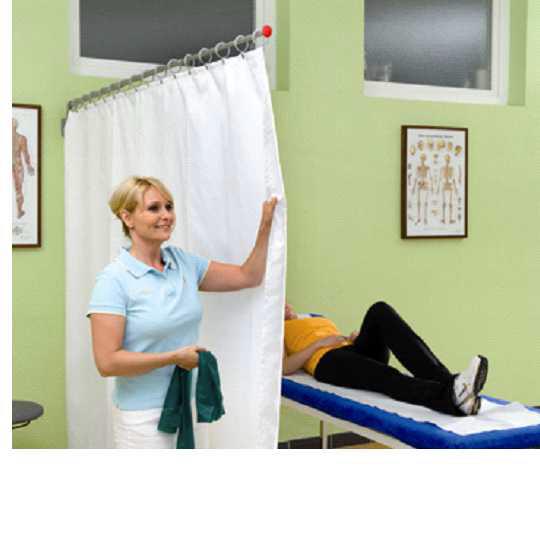 The swiveling telescopic arms allow
for a screening system only when
needed. When finished, simply
push together and turn toward the
wall and restore your room to its
usual appearance. Designed to be
maintenance, constructed of high-
quality anodized aluminum, glass-
fiber reinforced synthetic materials
and stainless steel. Customize it to
exactly what you need by picking
your telescopic arm length, wall
holder, fabric size and colors for all
of the previously listed items.
ItemNo Line Item Description
RF-* Blackout, Flame Retardant Fabric, * will
indicate the size and color
RTS-*** Telescopic Arms, *** will be 3
letters/numbers indicating size and color
WH-* Wall Holder, * will indicate the color
Renaissance Privacy Screens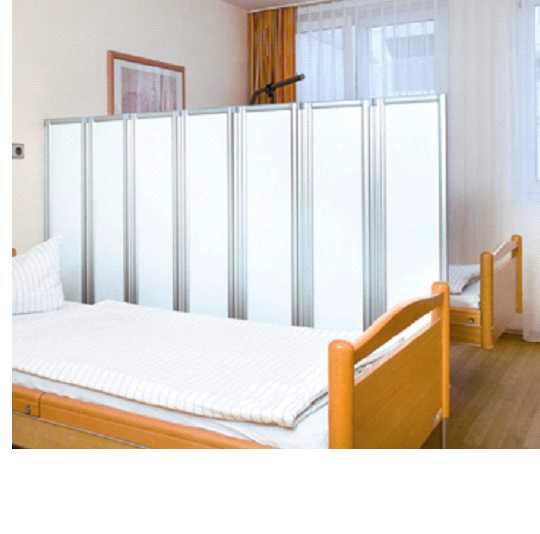 This attractive impact-resistant
folding wall is designed to save
space while protecting your
patients' privacy. It is a versatile
furniture piece that can be used as
a screen or partition and then
retracted even with the wall to
meet your facilities' exact needs.
Constructed of high-quality scratch-
resistant Plexiglas and anodized
aluminum with opaque panels,
while remaining translucent to
create a warm and friendly
environment. Panel sizes and color
ItemNo Line Item Description
RPS-* Non-Standard Privacy Screen Color, * will
indicate the color chosen
RPS-**** Privacy Screen, **** will be numbers
indicating size and # of sections
Exam Room Equipment & Furniture