Natus Nicolet Brand Products
Offers the ultimate flexibility of options, allows configuration of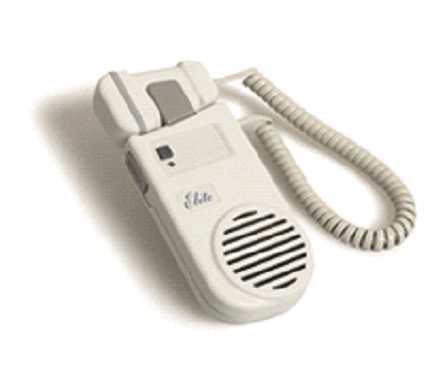 a hand-held Doppler that meets the user needs exactly.
• Interchangeable obstetric, vascular and waterproof
• Digital or non-digital models
• Alkaline or rechargeable batteries
• ABI Cuff kit consist of; one aneroid, four 10 cm. cuffs,
laminated ABI chart, ABI report forms, ABI CD &
The user can mix and match options to create the Doppler of
choice. Warranty: one year labor and five years other parts
against manufacture defects. Waterproof probe warranty is
one year parts and labor warranty against manufacture
defects.
Elite 100 - No Display, Alkaline Battery
ItemNo Line Item Description
EN20 Elite 100 with 2 MHz Obstetric Probe/EA
EN23 Elite 100 with 2 & 3 MHz Obstetric
EN25 Elite 100 with 2 MHz Obstetric & 5 MHz
EN28 Elite 100 with 2 MHZ Obstetric & 8 MHz
EN2W Elite 100 with 2 MHz Waterproof
EN2W3 Elite 100 with 2 MHz Waterproof & 3
MHz Standard Obstetric Probes/EA
EN30 Elite 100 with 3 MHz Obstetric Probe/EA
EN35 Elite 100 with 3 MHz Obstetric & 5 MHz
EN38 Elite 100 with 3 MHz Obstetric & 8 MHz
EN50 Elite 100 with 5 MHz Vascular Probe/EA
EN58 Elite 100 with 5 & 8 MHz Probes/EA
EN5A Elite 100 with 5 MHz Vascular Probe &
EN80 Elite 100 with 8 MHz Vascular Probe/EA
EN8A Elite 100 with 8 MHz Vascular Probe &
Elite 100R - No Display, Rechargeable
ItemNo Line Item Description
EN20R Elite 100R with 2 MHz Obstetric
EN23R Elite 100R with 2 & 3 MHz Obstetric
EN25R Elite 100R with 2 MHz Obstetric & 5 MHz
EN28R Elite 100R with 2 MHZ Obstetric & 8 MHz
ItemNo Line Item Description
EN2W3R Elite 100R with 2 MHz Waterproof & 3
MHz Standard Obstetric Probes/EA
EN2WR Elite 100R with 2 MHz Waterproof
EN30R Elite 100R with 3 MHz Obstetric
EN35R Elite 100R with 3 MHz Obstetric & 5 MHz
EN38R Elite 100R with 3 MHz Obstetric & 8 MHz
EN50R Elite 100R with 5 MHz Vascular Probe/EA
EN58R Elite 100R with 5 & 8 MHz Probes/EA
EN80R Elite 100R with 8 MHz Vascular Probe/EA
EN8AR Elite 100R with 8 MHz Vascular Probe &
Elite 200 - Display, Alkaline Battery
ItemNo Line Item Description
ED20 Elite 200 with 2 MHz Obstetric Probe/EA
ED23 Elite 200 with 2 & 3 MHz Obstetric
ED25 Elite 200 with 2 MHz Obstetric & 5 MHz
ED28 Elite 200 with 2 MHZ Obstetric & 8 MHz
ED2W Elite 200 with 2 MHz Waterproof
ED2W3 Elite 200 with 2 MHz Waterproof & 3
MHz Standard Obstetric Probes/EA
ED30 Elite 200 with 3 MHz Obstetric Probe/EA
ED35 Elite 200 with 3 MHz Obstetric & 5 MHz
ED38 Elite 200 with 3 MHz Obstetric & 8 MHz
ED50 Elite 200 with 5 MHz Vascular Probe/EA
ED58 Elite 200 with 5 & 8 MHz Probes/EA
ED80 Elite 200 with 8 MHz Vascular Probe/EA
ED8A Elite 200 with 8 MHz Vascular Probe &
Elite 200R - Display, Rechargeable
ItemNo Line Item Description
ED20R Elite 200R with 2 MHz Obstetric
ED233R Elite 200R with 2 MHZ Waterproof &
3MHz Standard Obstetric Probes/EA
ED23R Elite 200R with 2 & 3 MHz Obstetric
ED25R Elite 200R with 2 MHz Obstetric & 5 MHz
ED28R Elite 200R with 2 MHZ Obstetric & 8 MHz
ED2WR Elite 200R with 2 MHz Waterproof
ED30R Elite 200R with 3 MHz Obstetric
ED35R Elite 200R with 3 MHz Obstetric & 5 MHz
ED38R Elite 200R with 3 MHz Obstetric & 8 MHz
ED50R Elite 200R with 5 MHz Vascular Probe/EA
ED58R Elite 200R with 5 & 8 MHz Probes/EA
ED80R Elite 200R with 8 MHz Vascular Probe/EA