Health o meter Professional Scales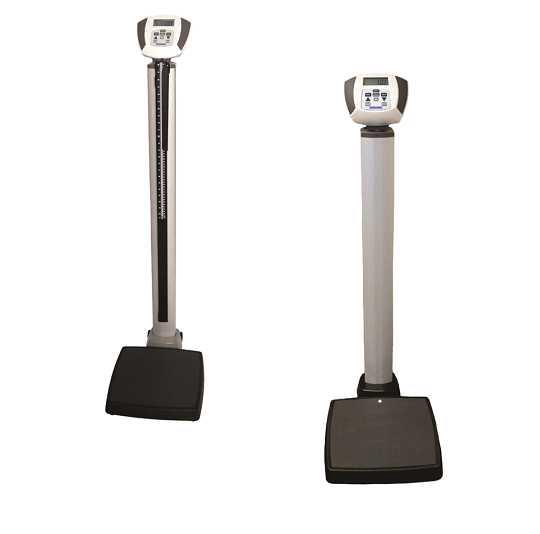 500KL, 597KL, 599KL digital
Physician Scales feature high
weighing capacity, low profile base
and user friendly interface. The
597KL and 599KL models have a
large 1" LCD Display that swivels
350°. Platform size: 14 1/4" (w) x 14
1/4" (d) x 2 5/8" (h). EMR
Connectivity via USB. Functions
include: LB/KG Conversion, Body
Mass Index (BMI), Zero Out/Tare,
Hold/Release, Auto Zero and Auto
Off. 500KL and 597KL include built-
in height rods. 597KL and 599KL
operate on 6 Cell batteries (not
incl.) or AC adapter. 500KL
operates on 6 AA batteries (incl.) or
optional AC adapter. 597KL and
599KL capacity: 600 lb x 0.2 lb/ 272
kg x 1 kg. 500KL capacity: 500 lb x
0.2 lb / 220 kg x 0.1 kg.
ItemNo Line Item Description
500KL Digital Balance Beam Scale
597KL Eye-Level Digital Scale with Height Rod,
599KL Waist-High Digital Scale without Height
Detecto Digital Electronic
1 Look display shows height, weight, and BMI
simultaneously. Keypad functions include switch
selectable capacity of 500 lb x 0.2 lb/225 kg x 0.1kg.
Alkaline battery powered with auto-off when not in
use. Options include handpost and 115 VAC power
ItemNo Line Item Description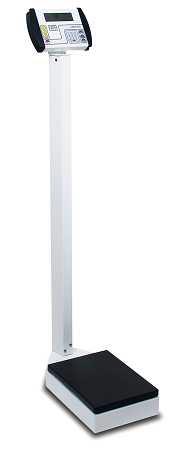 6437 Scale w/o Height Rod & Body Mass Index
Detecto Mechanical Physician
This most requested eye-level physician scale
features a capacity of 400lb x 4oz and a height
rod graduated in inches and centimeters from 30"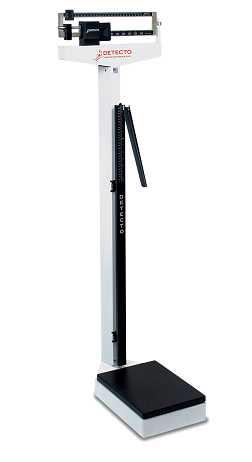 to 78". Die-cast beams easily read from front or
back. Molded platform cover removes for
cleaning. Dual reading and Metric models
available. Options include wheels, handpost,
ItemNo Line Item Description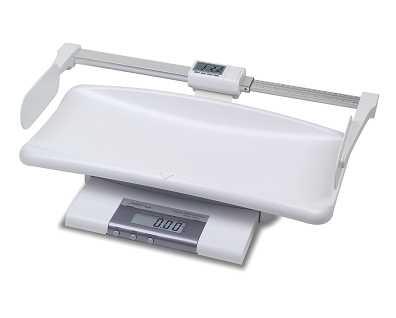 With dual graduations ranging from neonatal to pediatric care
(accurate to 5 grams), Detecto's MB130 features a removable
baby tray which automatically converts the scale into a low-
profile step-on toddler scale with a maximum capacity of up to
40 lb / 20 kg. Powered by one 9V alkaline battery (not
included) or AC adapter (included). The one-inch (25-mm)
high LCD with 5 active digit display provides a highly visible
readouts. Capacity: 0-20 lb x 0.01 lb, 20-40 lb x 0.02 lb / 0-10
kg x 5 g, 10-20 kg x 10 g. Optional model DLM digital length
measuring device available for pediatric weighing.
ItemNo Line Item Description
MB130 Digital Baby/Toddler Scale
Professional Doctor Scale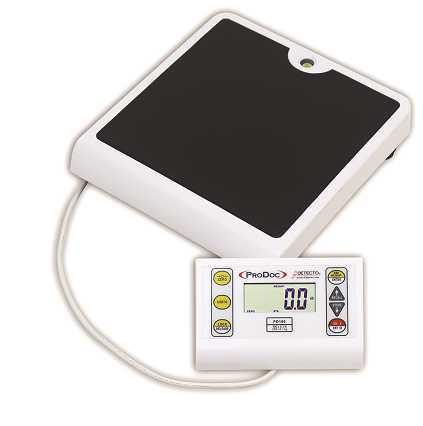 These professional doctor scales are
designed to meet the medical-grade
accuracy you depend on. The model
PD100 provides BMI (Body Mass Index)
by conveniently selecting your height
with easy-to-use scroll keys. The ProDoc™
series heavy-duty scales can weigh up to
480 lb/220 kg while providing you with
the accuracy you require with 0.2 lb/0.1
kg increments. The LCD display provides
easy-to-view 1-inch-high (25 mm)
ItemNo Line Item Description
PD100 Low-Profile Digital Scale with Remote
Exam Room Equipment & Furniture