X-L Power-Back 600 lb Capacity
• Backrest is motorized 0 to 75 degrees to facilitate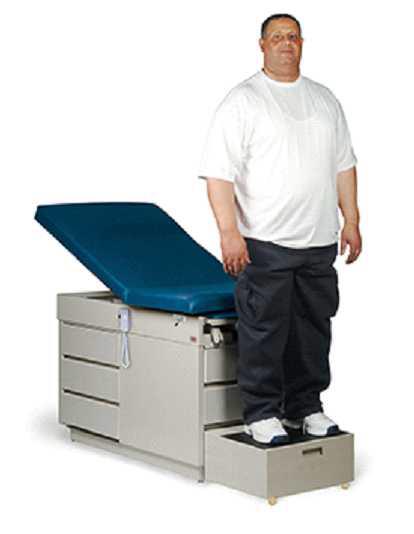 Bariatric or Elderly patient positioning. No other table
in this price range has this feature.
• The strongest slide-out Footstep on the market can
accommodate patients up to 600 lbs.
• Footstep is 19 1/2" W x 17" D x 9" H with anti-slip
treaded surface and (2) front supports for stability.
• Slide-out 20" wide leg rest with Pad extends full 18".
• Extra-wide 30" Top accommodates larger patients.
• Table height is comfortable 33" with toe recess on
• Heavy duty concealed stirrups adjust in length and
are laterally adjustable into 4 positions. Heel rests are
vinyl coated for patient comfort.
• Table is equipped with (2) front end Drawers and (3)
right side Drawers. Molded polystyrene interiors for
• Laminate Drawer fronts are 3/4" thick with White
3mm edges for protection and durability.
• Welded heavy-duty steel chassis with durable epoxy
powder coated Gray Beige finish.
• One-piece vinyl upholstered top with High-Density
urethane foam and contoured padded head section
• Pelvic Tilt with dual side controls
• Includes Paper Dispenser and Cutter.
• Electrical outlet in rear of Table with Hospital grade
• 54-72" L (extended) x30"W x33"H
• Choice of 18 standard vinyl colors.
ItemNo Line Item Description
4416 X-L Power-Back Exam Table
Classic Wood Treatment Tables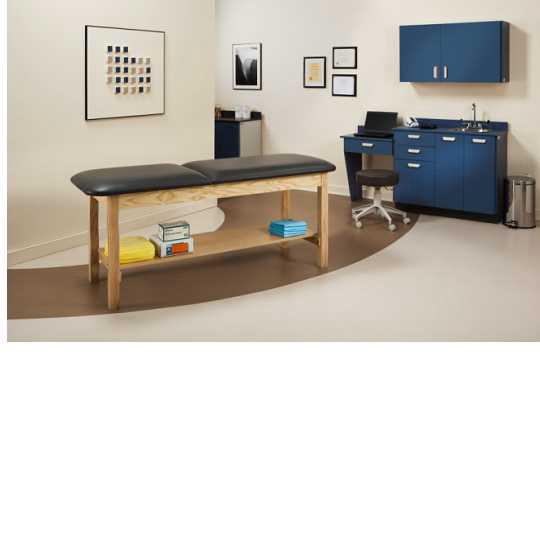 Clinton's Classic Series Treatment
Tables are the benchmark in the
industry for traditional wood tables.
Tough, sturdy 2.25" hardwood legs
support bolted frame construction
for the ultimate in strength and
durability in a wood treatment
table. Clinton Classic Wood
Treatment Tables are available in a
variety of models that can be fitted
with over a dozen options.
ItemNo Line Item Description
1010 Hardwood Legs and Adjustable Backrest
1020 Hardwood Legs, Laminate Shelf and
1030 Hardwood Legs, Laminate Shelf, Storage
Compartments and Adjustable Backrest
Classic Line Tables Accessories
ItemNo Line Item Description
10 Stirrups, adjustable height, angle, length.
Chrome-plated with plastic coated heels
2 Adjustable Headrest, 4-position
20 Small pillow, 14" x 12" x 3" thick
3 Slide-Out Shelf, 9" wide, accessible from
30 Paper Dispenser, for paper rolls from 18"
4 Drawer, 14-1/2" deep x 16-1/4" wide x
40 Paper Cutter, clear plastic
5 Extra Height, 36" maximum, state height
6 Extra Length, 78" maximum, state height
60 Full Size Head Pillow, 14" x 21" x 3" thick
77 Safety Strap, 2" x 92" long, secures with
8 Armboard, adjustable height and
position, for either side of table
9 Nosehole, permits patient to lie down
without turning head, 9" long x 2" high
Exam Room Equipment & Furniture