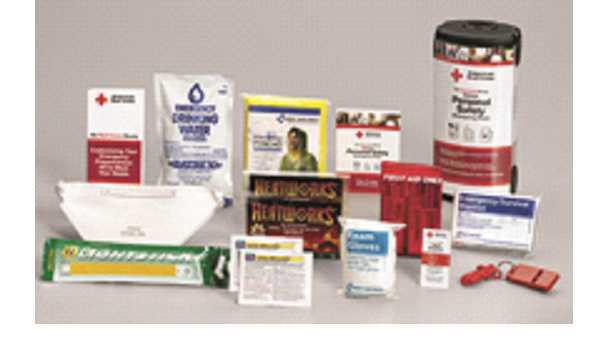 This pack contains a wider array of essential items that
employees can use during a catastrophic event such as a
ItemNo Line Item Description
RC-613 Deluxe Personal Safety Emergency Pack
Our comprehensive responder kit
contains the essential first aid supplies
you need in a medical emergency. This
100 denier cordura semi-rigid bag with
handle, shoulder strap, side pockets, main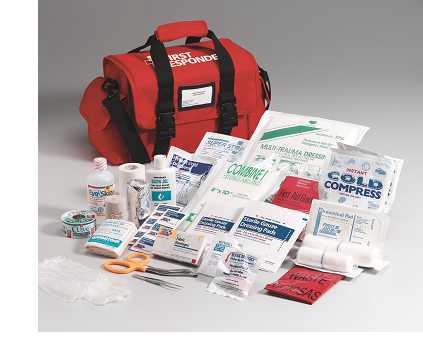 compartment has removable divider &
pocket, lid has zippered pouch, buckle
closure, business card holder includes
CPR devices, dressings, bandages, tapes,
biohazard bags, gloves and more. Plus,
there's still room for your own personal
ItemNo Line Item Description
520-FR First Responder Kit
General Workplace Cabinet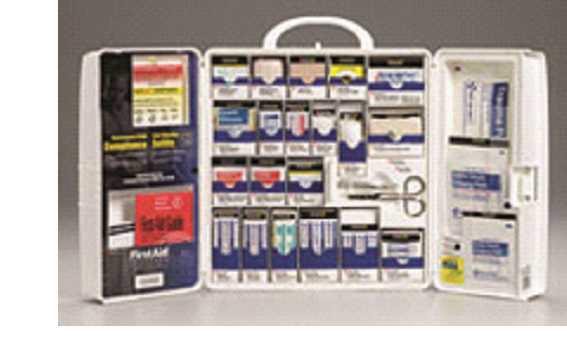 This general business kit is ideal
for businesses, offices, and work
sites. The swing-out door and easy-
to-carry handle add extra
convenience. This unique cabinet
design eliminates disorganized
and missing supplies. Clearly
labeled compartments create a
cabinet that is easy to use and
restock. With the expansion
pocket, you can customize your
cabinet to meet your specific
ItemNo Line Item Description
1000-FAE-0103 Large SmartCompliance™ General
Workplace Cabinet with pain relief
The MedSource Attack Bag offers a
perfect fusion of portability and
capacity. The MedSource Attack
Bag is easy to carry with ample
space for your basic supplies. The
padded internal dividers keep you
organized when you need it most.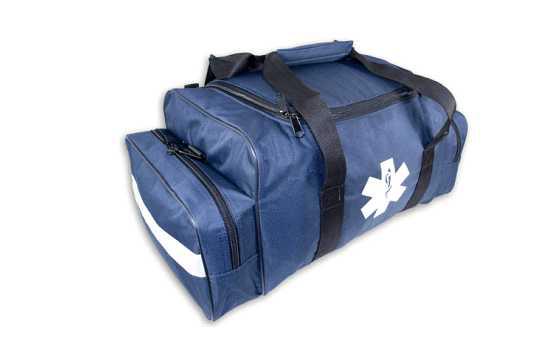 ItemNo Line Item Description
MS-B3401 Attack Bag, Navy, ea
MS-B3402 Attack Bag, Orange, ea
MS-B3403 Attack Bag, Red, ea
Deluxe First Responder's Bag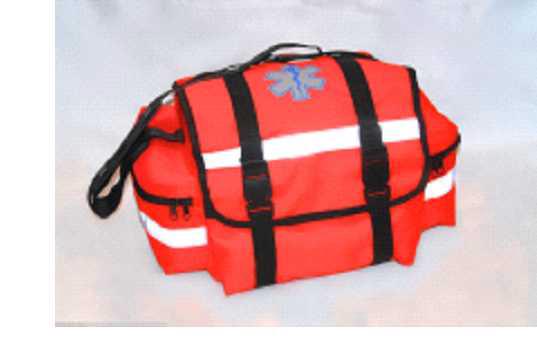 The MedSource Deluxe First
Responder's Cab Bag offers the
same portability as the standard cab
bag, but with improved hardware
and storage options. This bag
features reflective tape on the large
side pockets, a spacious front
pocket, three internal dividers offer
organization, and a waterproof
bottom panel that increases this
bag's longevity and durability.
ItemNo Line Item Description
MS-33304 Deluxe First Responder's Cab Bag, Navy,
MS-33305 Deluxe First Responder's Cab Bag,
The MedSource Deluxe Oxygen Bag
is made of high quality, durable
materials and features high visibility
reflective tape, four external pockets,
a removable inside tray and a full
length net pocket to hold supplies.
ItemNo Line Item Description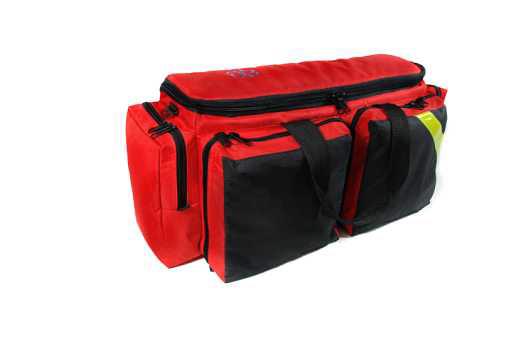 MS-B3312 Deluxe Oxygen Bag, Red, ea
MS-B3313 Deluxe Oxygen Bag, Royal Blue, ea
First Responder's Cab Bag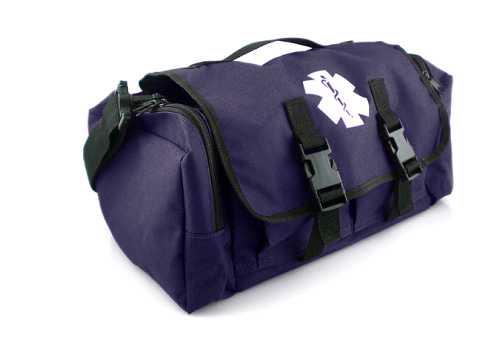 The MedSource First Responder's Cab
Bag features zippered pockets on
both ends, net pockets inside and two
front pockets with elastic loops. The
internal divider and padded bottom
give the bag the organization and
durability needed for every first
ItemNo Line Item Description
MS-B3301 First Responder's Cab Bag, Navy, ea
MS-B3302 First Responder's Cab Bag, Orange, ea
MS-B3303 First Responder's Cab Bag, Red, ea
Safety/Emergency Products